Video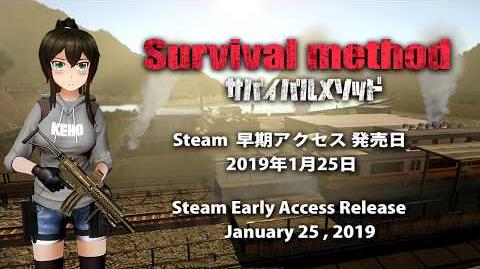 video
Welcome to the Indie game Survival Method Wiki
It is a wiki of the game under development [Survival method]
Steam store
https://store.steampowered.com/app/729030/_Survival_Method/
Game Summary
A zombie outbreak occurs in a city in Japan. 
A resident of that town, Nao Fumizuki, finds herself in the middle of this outbreak.
Hordes of zombies, lunatic townspeople, a lack of resources, and the collapse of society...
How will Nao survive in this zombie-infested nightmare?
Game Features
Survival in a post-zombie apocalyptic world

Survive by crafting traps and shelter from materials to withstand zombie assaults

Survive by growing and finding food to keep your hunger and thirst from stealing your health

Fight raiders and looters for resources

Crafting system including bases, traps, weapons, and armor

Wild animal hunting

Farming 

Zombie rushes

Secure drinking water

Overarching Story

Genre: Open World, Survival, Action
Latest activity
Photos and videos are a great way to add visuals to your wiki. Find videos about your topic by exploring Fandom's Video Library.